Why Are Polycarbonate Sheets Better Than Acrylic Sheets?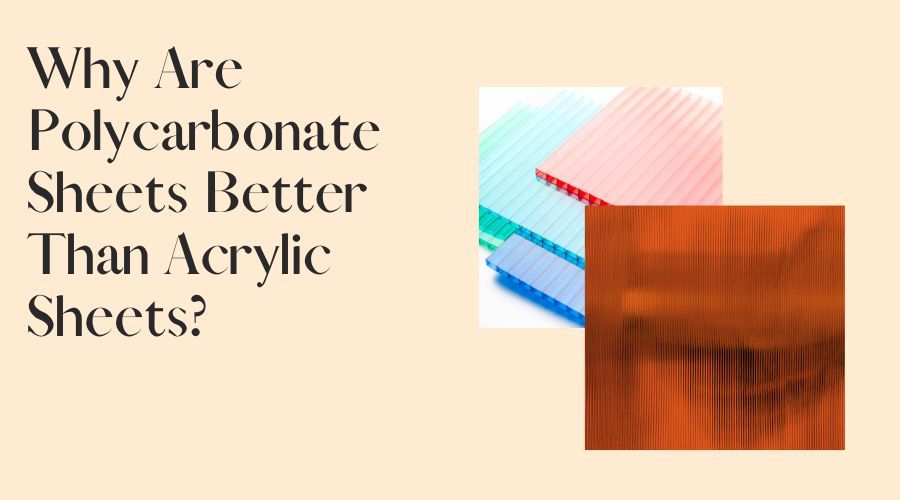 For all standard substances, there are always substitutes. People think that acrylic or polycarbonate sheets can frequently substitute conventional glass. Acrylic and polycarbonate sheets are suitable replacements for several traditional glass uses. Both these materials provide enhanced public security and safety. Both substances are nevertheless not substitutable with each other. There are many crucial things to consider when comparing acrylic with polycarbonate for their commercial project.
Breaking Down Acrylic Vs Polycarbonate
People need to comprehend the basic framework of acrylics vs polycarbonate initially. At face value, acrylic and polycarbonate sheets seem to be the same. These two substances are both clear. Every well-reputed polycarbonate sheet dealer sells polycarbonate sheets in various lengths and thicknesses, while acrylic sheets are also available in multiple thicknesses and sizes. Manufacturers can make both these substances into certain shapes. Technically, polycarbonates and acrylics are closely related as both are thermoplastics family members. Nevertheless, differences in their production and chemical compositions have made these two materials differ from each other.
Acrylic Vs. Polycarbonate: Things To Consider
Strength
Put up polycarbonate against acrylic; polycarbonate is sturdier than acrylic. Less stiff and able to withstand changes in temperatures without damage, polycarbonate sheets are best for some of the most challenging jobs, even offering security against bullets. While one is more durable and sturdier than the other, both polycarbonate and acrylic sheets are sturdier than glass. Polycarbonate sheets are two hundred and fifty times stronger than conventional glass, while acrylic sheets are seventeen times sturdier than glass.
Weight
This one is quite simple. Polycarbonate and acrylic sheets are around fifty percent less heavy than conventional glass.
Durability Against Coldness
Polycarbonate sheets tolerate coldness much better than acrylic plastic. As a sturdier substance, polycarbonate sheets are less likely to break as they do not become brittle.
Workability
In comparing acrylic vs. polycarbonate, polycarbonate sheets are simpler to work with but different from what people might think. As polycarbonate sheets are sturdier, they are ideally suited for fabrication than acrylic sheets. Whether shaped, drilled, or cut, polycarbonate sheet is less likely to get damaged, though fabricating requires more skill and effort.
Daily Uses Of Polycarbonate Sheet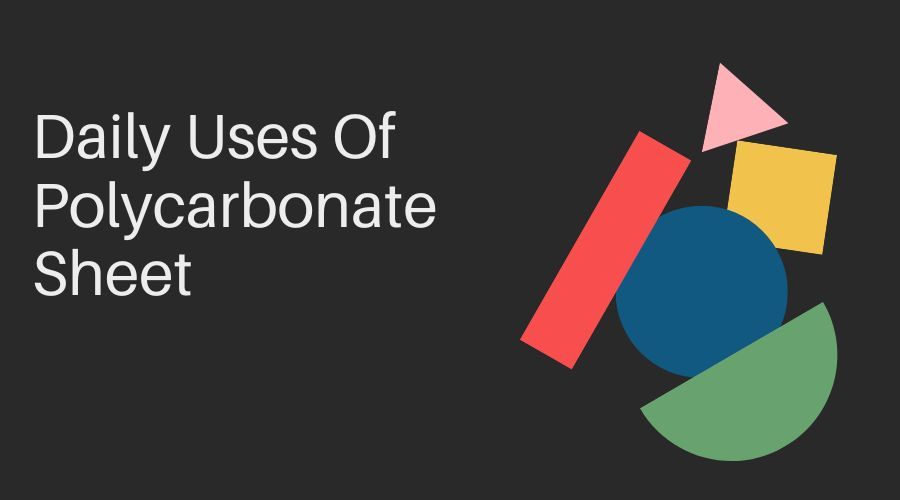 A polycarbonate sheet is a hard plastic (shaped into an opaque or transparent sheet) that absorbs a bit of moisture and resists chemicals. It is also fire retardant and is not susceptible to affect damage. As it has several desirable characteristics, it has adapted for several uses in place of acrylic, glass, and other substances.
Room Divider
A common usage of polycarbonate sheet is to divide a room. As the polycarbonate sheet, moving from one area to another is simple. Manufacturers make some polycarbonate sheets in an accordion style so people can close and open the divider as required, and some are even composed on wheels for more straightforward movement.
Safety Glasses
As polycarbonate sheet resists chemicals, impact damage, and fire, it is an ideal choice for goggles and safety glasses. Due to polycarbonate sheet's nature, it offers more excellent safety than other substances and keeps goggles and glasses thin so they do not affect people's vision.
Bullet Resistance
A polycarbonate sheet could help offer appropriate safety and protection in areas where bullet-proof glass is needed. The polycarbonate sheet is put between the glass layers; offering protection should any bullets smash the surface. Manufacturers also make riot shields by using polycarbonate sheets because of their bullet resistance.
Electronics
Several makers are finding methods to use the polycarbonate sheet's features. As it is sturdy and lightweight, it is an excellent option to develop laptops, smartphones and other electronic devices that might be sensitive to affect damage and the rest of the damages that the polycarbonate sheet could help avert compact discs and digital video discs.
Automotive Parts
Since polycarbonate sheets resist heat, and chemicals and are flame retardant, automotive part makers utilize them to manufacture specific automotive parts. You might find out that door handles, headlight bezels, and radiator grills are composed of a polycarbonate sheet to provide an automobile with lightweight protection.
Building Uses
Polycarbonate sheet is more than two hundred times sturdier than glass, making it an excellent substitute whenever available. It is also simpler to mold than other substances. The durability of polycarbonate sheets has made them an ideal option for glazing safety and security lights in buildings. It provides much better insulation than glass and could also play an essential role in decreasing energy costs whenever utilized instead of glass for construction purposes.
Agriculture
Another wanted characteristic of polycarbonate sheet is the ultraviolet protection it offers. It is trendy in the development of greenhouses as it yet allows the rays of the sun to come in, without the possibly dangerous ultraviolet rays, therefore, offering safety, light and warmth to the plants which they require for their survival.
Why Is Polycarbonate Sheet The Best Greenhouse Substance?
A Polycarbonate Greenhouse Provides Better Insulation
The reason to establish a greenhouse is to keep plants warm and promoting longer and faster growth. As mentioned before, polycarbonate sheet does diffusion of daylight but glass refracts it. That daylight spreading through the polycarbonate greenhouse produces heat and absorbs it for a longer period than glass. People would not have to move plants in to guarantee that they are exposed to sunlight. And they would not be required to add lighting to the inside to let the plants exposed to sun rays stay warm or offer internal heating for cold spots.
A Polycarbonate Sheet Greenhouse Outlasts Glass
Even whenever accidents do not often take place, the question that might come to your mind would be regarding the longevity of polycarbonate panels. The answer is for a longer period than glass panels. The polycarbonate sheet makes it hard to tolerate extreme temperatures, human accidents and environmental changes. As we discussed that polycarbonate sheet is sturdier than glass, it provides people with peace of mind. And if people need to replace a polycarbonate greenhouse panel, they could do it rapidly, while if a glass panel breaks, people would have to call a contractor.
Affordability Of Polycarbonate Greenhouse
In the past, polycarbonate greenhouse was expensive, but their costs have decreased, whereas their value has kept on rising. Thus, the establishment of polycarbonate greenhouses has become affordable for people.