What Are Polycarbonate Sheets, And Why Are They Popular?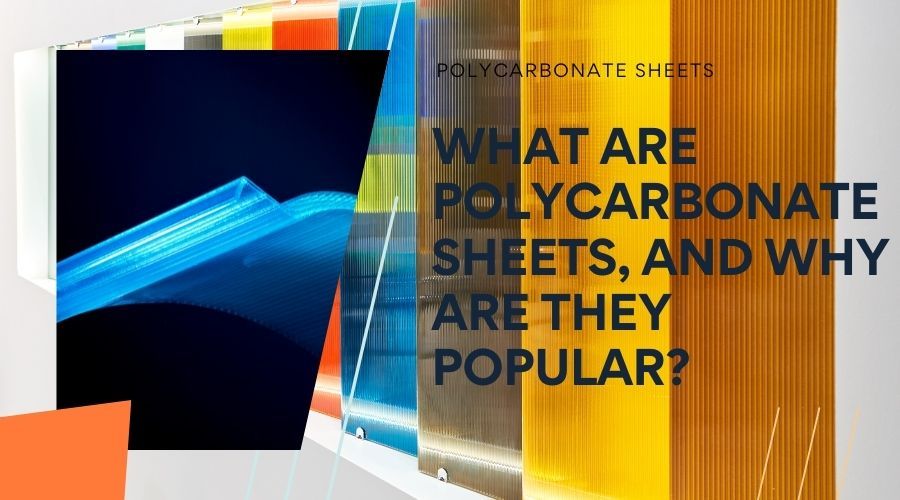 A polycarbonate sheet is a rigid plastic (in the form of a transparent or opaque sheet) that absorbs little moisture and is chemically resistant. It is also fire retardant and resistant to impact damage. Due to its many desirable properties, it has been adapted for many uses in place of glass, acrylic, and other materials.
Polycarbonate is one of North America's most versatile building materials. It can be applied to almost any construction project that calls for the installation of a glass-like material (e.g., windows, skylights, etc.). Advantages of polycarbonate sheets and why they are the better option.
What Is Polycarbonate?
Polycarbonate is made up of a synthetic resin that uses carbonate groups to connect polymer units, hence the name polycarbonate. It is a long-lasting and versatile thermoplastic material that is lightweight and moldable. It has many of the same properties as construction-grade plastic and glass but is less stiff, fragile, and heavy. As a result, polycarbonate is one of the world's most widely used engineered thermoplastics.
Polycarbonate has a higher impact strength and is more durable than acrylic plastic, making it the preferred type of plastic for many. Polycarbonate is not only increased light but also virtually impossible to break and has excellent resistance to many kinds of damage. No matter what project you're working on, our polycarbonate sheets can be cut to size to ensure a perfect fit to your specifications.
Characteristics of Polycarbonate Sheets
Malleability
Unlike certain types of plastic, polycarbonate sheets can be molded for any use and application without compromising strength. That is why polycarbonate sheets are suitable for many applications such as roofing projects, window installation, etc.
Lightweight Material
Polycarbonate sheets are lightweight, making them easy to transport and maneuver from your vehicle to the job site.
Impact Resistance
Despite their lightweight, polycarbonate sheets are extremely strong and durable. Polycarbonate is much lighter than glass, making it easier to transport but much more vital, making it impervious to breakage. Polycarbonate's lightweight and impact resistance make it an ideal material for eyewear and even bulletproof windows in high-security areas such as banks.
Natural Lighting and Transparency
Like plastic and glass, polycarbonate is transparent, allowing natural light to pass through. Polycarbonate is an excellent choice for greenhouses and even skyscrapers where natural lighting is essential.
Heat-Resistant
Polycarbonate is heat resistant and can be combined with other flame-retardant materials while retaining strength and structural integrity. Polycarbonate's heat resistance makes it an ideal material for many engineering and industrial projects that require working in hot outdoor environments conditions with heavy machinery that can overheat.
Durability
Polycarbonate, as previously stated, is highly durable and can withstand a wide range of applications and usage. It is 250 times stronger than glass and plastic, making it virtually indestructible on construction sites. Due to its high impact resistance rating, polycarbonate is frequently used to protect structures and contents from extreme weather conditions such as high winds, rain, snow, and hail.
Easy Installation
Polycarbonate installation is simple and quick. The sheets can be easily cut and reshaped to fit within any support structure or frame, and the included hardware allows for simple mounting.
How to Pick the Finest Polycarbonate Sheet, Suppliers?
Plastic has become the most popular and widely used material in the world, and as a result, more plastic products are now available worldwide. Many people are now concentrating on how they can use polycarbonate sheets, and as a result, they are looking for the best suppliers and manufacturers who can offer them the best deals. You can now use the internet to find more polycarbonate sheet wholesalers online. However, you must clearly understand what you want before deciding which suppliers and manufacturers to select.
Local Polycarbonate Sheet Manufacturers
Choosing local polycarbonate panel suppliers and manufacturers is the best way to go. As a result, you must know how to narrow down the best deals locally. Many homeowners today purchase polycarbonate panels and sheets for home renovations so that you can solicit their advice and insights. This allows you to expedite the overall process and locate the best local dealers and suppliers in your city. Local suppliers can help you save money and provide you with more purchasing options.
Reputed Polycarbonate Sheet Manufacturers
Furthermore, it would help if you focused on what you want to find the best sheets and panels. If you buy the best LEXANTM Polycarbonate Sheets, you should look for reputable suppliers and dealers who can provide you with more variety and options. As a result, you must be aware of the types of reviews and testimonials these dealers and suppliers have. You can find the best options for purchasing high-quality polycarbonate boards and sheets by working with suitable suppliers and dealers. Choosing suppliers and dealers who offer a more comprehensive range of panels and sheets will save you time and effort.
Affordable Polycarbonate Sheet Manufacturers
When purchasing these panels and sheets, you must also consider the total cost of the panels and sheets. This is critical because you want to make the most of your budget. Because everyone has different budgets and expectations, you must look for the best polycarbonate sheet price that fits your needs. This ensures you can find the best deals at the lowest possible price.
Why Use Polycarbonate?
Polycarbonate is a thermoplastic derived from a transparent sheet and is resistant to water and impact damage due to its uncompromising quality and low moisture absorbance. They are also highly heat resistant, stable, flame retardant, and chemical resistant.
Polycarbonate sheets are simple to work with and can be easily cut and fixed with screws, nuts, and bolts. Polycarbonate can be easily shaped and sized using thermoforming and machining. Polycarbonate becomes a liquid when heated to its melting point of 155 degrees Celsius. It can be continuously cooled and reheated without significant degrading, making it easy to recycle or injection mold. Polycarbonate's resistance and strength make it ideal for applications where safety and security are critical.